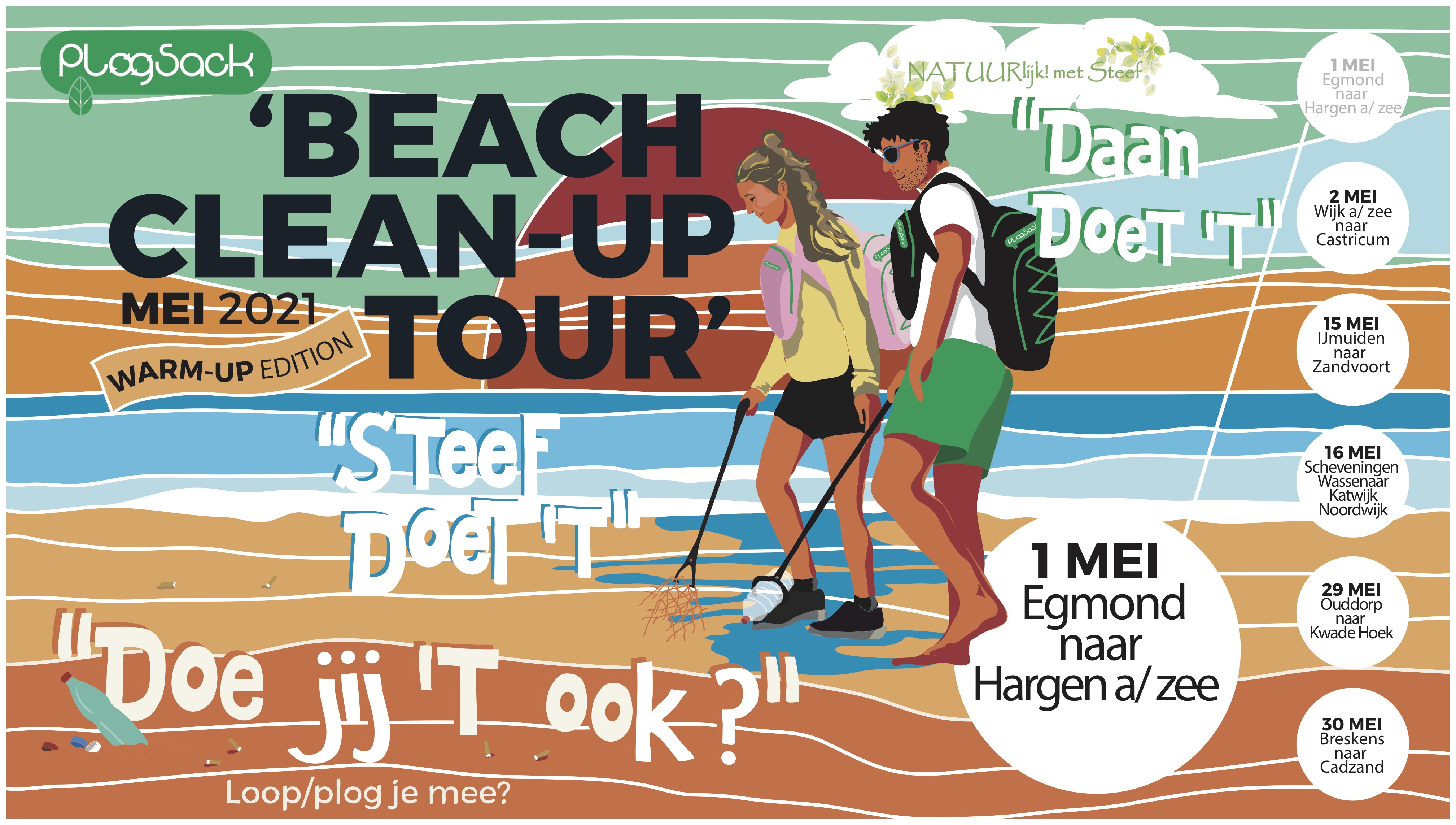 Hallo!
Hallo! Wij zijn Daan Strang en Steef de Ruijter en wij gaan samen deze zomer de Nederlandse kust afwandelen om plastic en afval op te rapen!
In 2019 deed Steef dit al en zij is daarmee de enige vrouw die dit alleen deed! En in 2020 deed Daan dit dit ook als enige man in Nederland! En hij introduceerde toen ook de nieuwe trend Plogging!
Dit jaar gaan we samen ons land een beetje mooier maken. En dit doen we niet eenmalig, maar dit jaar zelf twee keer!
Het doel is om bewustwording te creëren rond plastic, afval en oceaanplastic. Het tweede doel is om mensen te activeren hier anders mee om te gaan! Door eerst te komen helpen met het opruimen en vervolgens goed na te denken over hoe we anders en duurzamer kunnen consumeren en produceren!
Samen maken we de wereld een klein beetje mooier. Met genoeg mensen worden al deze miniverschillenuiteindelijk een megaverschil!
Wij lopen in Mei en en Juli langs de hele Nederlandse kust om plastic en afval op te ruimen.
In Mei: de warm-Up Edition: 3 weekenden met 6 etappes! 1 & 2 Mei, 15 & 16 Mei en 29 & 30 mei
In Juli: Vanaf 22 Juli t/m 1 Augustus.
Den Helder naar Scheveningen in 11 dagen én
Cadand naar Scheveningen in 11 dagen! Daan & Steef lopen naar elkaar toe!
22 etappes in 11 dagen; 2 etappes per dag. Steef doet't en Daan doet 't! Doe jij 't ook?
Wij vragen iedereen om ons te komen helpen. Dit kan natuurlijk op het strand maar wij moedigen ook erg aan om het overal te doen waar zwerfafval ligt.
Zoals op je sportclub, langs de berm van de weg, in stadsparken, of simpelweg in de bosjes van een parkeerplaats of industrieterrein.
Wij houden hierbij rekening met de richtlijnen van het RIVM: Houd afstand, mondkapje mee voor de zekerheid. Samen op naar een schoon land en een schoon strand!
Dit is geen event maar een actie! Jij kan ook in actie komen.
Wil je ons op afstand supporten? Dan kan je hier doneren. Alle donaties gaan dit jaar naar het WWF, en daarmee supporten we onder andere het Project The Wave, waarbij sportclubs in Nederland plastic vrij worden gemaakt!
Donaties: druk op de link hiernaast of ga naar www.kominactie.wnf.nl/team/bcut2021 
Dit gebeurd met bewustwording, door clean-ups, maar ook door te kijken naar wat er verkocht wordt op sportclubs!
Wil jij helpen op een van etappes? Ga dan naar www.plogsack.com/events
Voor meer info over ons ga naar:
of onze Socials op Instagram, Facebook en LinkedIN!
Donaties: druk op de link hiernaast of ga naar www.kominactie.wnf.nl/team/bcut2021
Hello!
My name is Daan and I will walk over all of the the North Sea beaches of the Netherlands and clean up plastic waste! I do this from 8-8-2020 in Den Helder and I expect to finish 23 days later on 30-08-2020 in Cadzand.
Along the way I walk 23 stages and finish in a new place every day.
I've been doing beach cleanups for years and introduced my startup PlogSack this year. I would like to help raise awareness about plastic, litter, ocean plastic and our contribution as consumers. We can make the world a little bit more beautiful every day.
I also hope to witness an activation; it would be great if more and more people understand that we can all help to solve the already existing problems. By cleaning up! And be acctive at the same time. Good for yourself, for other people and animals and good for the planet.
I am the creator and founder of Lightworker Now and the first self-designed product that we have put on the market is the PlogSack. I will therefore use this product throughout the route to collect the litterI find. I will use the backpack to store my things and to carry my water bottles! I will weigh all the waste that I find whilst voluntary cleaning the entire coast. I will not be able to clean everything, but every piece counts!
Call it Trashpacking, Plogging, Litter picking, Beach Clean-up, or just cleaning up litter during a walk: these are all concepts that make the world a little bit more beautiful and that is the goal.
Would you like to help me? You can!
Many hands make light work. But I only have two hands! Perhaps you also want to lend a hand?
During the 23 day beach walk, every day I invite people to join. You can register for this via facebook events. Just a short bit, or a whole stage, whatever you want!
You will have to register for this and the following applies: There is limited availability per day and full = full. We will keep a distance of 1.5 meters.
Of course I'm not going to stop you from cleaning up or going to the beach, but maybe there is litter very close to your house! Will you pick this up too?
Register here on the form on this page (required) or via
www.facebook.com/plogsack/events
Sponsors
Would you like to sponsor me?
We are looking for Sponsors. please contact me through  the website  or info@plogsack.com
All ideas are welcome, I am happy to advertise your company, and connect your name to this charitable event!
I am looking for Beach restaurants and pavilions who would like to help. A place to meet up and start & finish each day! You will gain visibility and traffic!
I also would like to collect money for two charities that meet my wish for less waste in nature.
1. The Ocean Cleanup  is a Dutch company that has been very successful for years with its innovations in collecting waste from the oceans and rivers. Of all the donations and sponsorships I collect here, 50% will go to The Ocean Cleanup, so that they can continue to grow with more and more solutions!
2. Target Earth Foundation  is a Dutch foundation and has been active for years in setting up Beach Cleanups completely voluntarily. For example, every year there is a New years cleanup in Wijk aan Zee in January; with more than 150 people cleaning and there have already been cleanups in several countries! This foundation wants to continue to do this and at the same time grow by organizing at more locations. 50% of your donations and sponsorships will go to this foundation to encourage them.
This promotion is organized completely independently by PlogSack and is not sponsored or supported by the above two organizations. However, they are both very happy that this project is going to happen. This project is not for profit, but it aims to raise awareness and increase brand awareness of all parties. This project is not an event. We follow the guidelines of RIVM.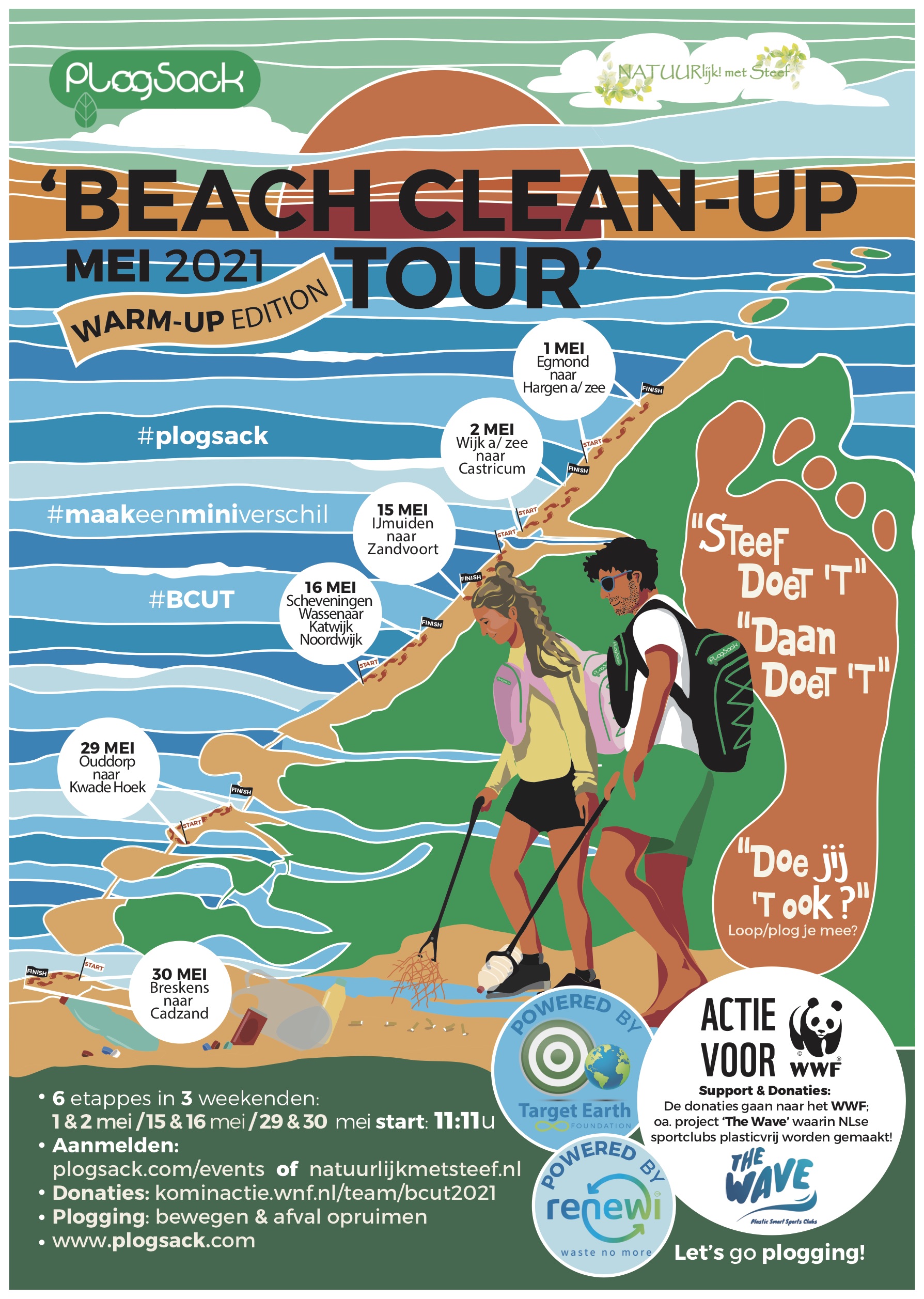 Sponsors & Partners Beach Cleanup Tour 2021